Page 9 of 11
FilmDagar torsdag 8 -  söndag 11 februari 2018
Vad längtar du efter? / What are you longing for? - tre filmer av Yasujiro Ozu och Wim Wenders
TORSDAG 8 FEBRUARI
19.00 Registration Membership 60 SEK for all films 2018, registration at the entrance
19.15 Introduction by ASTRID SÖDERBERGH WIDDING Professor of Cinema Studies in Stockholm.
Astrid also joins for the  discussion after Thursday and Friday films.
The introduction is followed by
TOKYO STORY by Yasujiro Ozu, Japan 1952, 136 min
An old couple come to visit their children who moved to Tokyo. In a quiet way the visit goes bad. From a few elements Yasujiro Ozu made one of the greatest films of all time. It doesn't force the emotions, but rather invites to share and understand the complexity of life in a quiet way.


FREDAG 9 FEBRUARI
19.15 Registration Membership 60 SEK for all films 2018, registration at the entrance
19.30 LATE AUTUMN  by Yasujiro Ozu  Japan 1960 129 min
Late Autumn begins and ends with an almost tangible scene of human warmth. From the opening memorial service to the closing scenes, a wedding, the film creates an atmosphere thick with irresistible humour and depth. Beyond the more aesthetic details Late Autumn is at heart an undeniably humorous yet touching story about the nature of humanity.
SÖNDAG 11 FEBRUARI
17.30 DINNER  Bring a small thing for the table, please!
19.15 TOKYO-GA by Wim Wenders, USA 1995, 92 min
In this documentary Wim Wenders travels to Japan in search for the Tokyo seen in Ozu´s films. What he seems to find is something else, and he takes us through what might be a totally commercialized city. But is it all? Wenders stays in wonder. He does not find much of Tokyo city of Ozu, but he does find something, perhaps more interesting, a way to look at and to participate in the intimacy of peoples lives.
FilmDagarnas tema
Vad längtar du efter?
Människor längtar ständigt efter olika saker, allt beroende på ens personliga dispositioner. Sett ur ett filosofiskt perspektiv har ett vanligt sätt att förklara denna längtan varit att reducera den till viljan att vara glad. Såväl Aristoteles som St. Thomas av Aquino har som exempel på detta utnämnt lyckan som människolivets yttersta mål. Men enligt dem rör det sig inte om social status, materiell rikedom eller njutning.
I den japanske regissören Yasujirô Ozus filmer möter vi den längtande människan. Berättelserna utspelar sig i efterkrigstidens Japan under det oundvikliga uppbrottet mellan den gamla tidens skönhet och isolation å ena sidan och å andra modernitetens ständigt hänförande intryck och avförtrollning. Dessa dramer kompletteras av regissörens nyskapande talang på ett rent praktiskt plan då filmerna systematiskt tar avstånd från den etablerade stilen som präglade Hollywood. Ett kännetecken är de låga kameraplaceringarna och de statiska scenerna där kameran inte rör sig alls. Nyskapandet är dock inte ett ändamål i sig för Ozu utan hans speciella stil fyller funktionen av att ge filmerna en mer egen och intim karaktär.
I motsatsförhållandena modernt - tradition samt förälder – barn som Ozu beskriver, kommer ofta längtan efter lycka till uttryck. De unga vill söka nya vägar att utforska bortom det traditionen eller föräldrarna genom erfarenhet menar är bäst för dem. Men i slutändan kan de varken finna sig i den nya tidens föränderlighet eller i nostalgi gentemot den gamla. Detta eftersom deras glädjelängtan inte går att finna i lust, rikedom, ära eller i det kroppsligt goda utan i något helt annat, precis som Aristoteles och St. Thomas av Aquino påpekar. Det innebär dock inte att livets mer materiella aspekter är av ondo eller bör förbises, utan att de inte är tillräckliga i sig.
Men vad är det då som saknas? I Johannesevangeliet 6:27 uppenbarar sig en lösning på gåtan: "Men sträva inte bara efter att få mat för dagen, utan sträva efter den mat som kan ge er evigt liv, den mat som jag, Människosonen, ska ge er".
Daniel Markus och Simon Bakran, VT-18
The Directors
YASOJIRO OZU
Japanese director, born in 1902. Ozu explored the tensions of a country trying to reconcile modern and traditional values. Ozu started as a director of silent cinema in the 20ies and Late Autumn in our program is his very last film in 1962. His camera work was now perfected: a fixed image frame within a mostly closed in space. The severity of composition brings forward the vividness of the characters, a humouristic friendlyness and comic surprises. With the words from Wim Wenders in our film Tokyo Ga:
"If in our century, something sacred still existed, if there were something like a sacred treasure of the cinema, then for me that would have to be the work of the Japanese director Yasujirô Ozu… never again since has the cinema been so close to its essence and its purpose: to present an image of man in our century, a usable, true and valid image in which he not only recognises himself, but from which, above all, he may learn about himself."

WIM WENDERS
In the70ies Wim Wenders, born 1946 in the American zone of the occupied Germany, made a trilogy of road movies. Moving around the world has also been his way, depicting human consequenses of the modern society. His critics are not of the confrontative kind, rather poetically beautiful portraits on the threats and possibilities of man.
Wenders belongs to the young german film makers, together with Rainer Fassbinder and Werner Herzog, looking behind the facad of the post-war German society in the 60ies. For Wenders the person alive behind the mask of conventions and mass produced individuality seems to be the main theme.
Among his films you find the quite burlesque The American Friend in 1978, Paris Texas, an influential film in the 80ies which was followed by Wings of Desire with an angel walking around Berlin, then still a devided city, consoling and helping people in need. In later years Wenders has focused on documentaries, still creating films faithful to his humanistic look on man.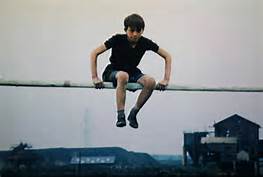 FilmDagar : Skall jag ta hand om min broder?
-tre filmer av Ken Loach och Gabriella Pichler
För studenter och unga vuxna.  Introduktioner till alla filmer.Medlemskap i Filmklubben 60 SEK vid entrén 15 minuter före varje film.
torsdag 5 oktober  19.30
Äta, sova, dö av Gabriella Pichler, 104 min, Sverige 2012
Set in modern Sweden, this is a realistic portrayat of an unemployed girl struggling to find a job for herself and her father. All she strives for is that life should offer something more. More than just eat, sleep,die.
fredag 6 oktober 19.30
Introduktion av Wiktor Ericsson, regissör till årets uppmärksammade film Jordgubbslandet
följt av
Kes, falken av Ken Loach, 111 min  England 1969
A working-class boy is bullied at school and abused at home. But through the care of his teacher Mr. Farthing and some of his friends from school he manages to keep his spirit and appreciation of life alive by taming and training a falcon. That is until things take a turn for the worse.
söndag 8 oktober kl 19.30
Jag, Daniel Blake av Ken Loach, 100 min, England 2016
A man navigates to survive in England of today. It turns out to be a difficult thing, however, when supportive institutions are revealed to be systems of control and technic. Follow Daniel on his journey to maintain dignity and love, joining others struck by precarity.
Ska jag ta hand om min broder?
Film har en lika stor bredd i termer av sitt format och innehåll som litteratur, musik eller vilket annat konstmedium som helst. Ändå tycks aversionen inför långsamma och mer allvarsamma teman vara större än inom andra konstformer då ett litterärt verk sannolikt inte hade mött samma motstånd trots sitt innehåll. Istället för minimalismens mantra "less is more" hör man "less is bore". Men film kan även vara något annat som varken är pretentiöst eller klyschigt idealistiskt (eller trendigt cyniskt för den delen), något vi kan kalla verklighet. I vårt postmoderna samhälle rör vi oss mot en frikoppling av individen som ofta speglas i kommersiell film. Vi är drivna av en törst efter total frihet och självförverkligande, detta kanske just för att själva känna oss verkliga. Men det är just verkligheten i allt sitt allvar och sin såväl långsamma som snabba takt som träffar oss i filmer som Kes, I, Daniel Blake och Äta sova dö. Vi möter porträtt av verkliga människor som inte riktigt är fria utan lever sina liv bland andra människor och i beroendeställning gentemot andra människor, sådana som vi kanske inte ser när vi vänder blicken inåt mot vår egen livskarriär. När andra människor, fattiga människor, de i medier "osynliga" människor eller mer poetiskt uttryckt "min broder", enbart blir ett medel eller ibland hinder för vår egen framgång finns det inte plats för beroende och i dess utsträckning empati och relationer. "Sannerligen, vad ni inte har gjort för någon av dessa minsta, det har ni inte heller gjort för mig" säger Jesus i Matteus-evangeliet 25:45. I det skenbart lilla döljer sig i själva verket det stora!
Daniel Markus och Simon Bakran HT-17
Fler filmkvällar hösten 2017
tisdag 12 september kl 19.30
Mannen utan minne/The man without a past av Aki Kaurismäki, Finland 2002
torsdag 9 november kl 19.30
Min natt med Maud / My night at Maud´s av Eric Rohmer, Frankrike 1969
söndag 3 december kl 19.30
En sommarsaga / A summer´s tale av Eric Rohmer, Frankrike 1996, 113 min
tisdag 19 december kl 19.30
Pauline på stranden/ Pauline at the beach, Eric Rohmer, Frankrike 1983, 94 min