Filmklubben Sandgatan 8 är en plats i Lund och Malmö för att se och diskutera film hos Dominikanerna på Sandgatan 8 i Lund.  Vi ser filmer som kan ge underlag för reflektion, filmer som är gjorda med engagemang. Det vi söker är inte film med "budskap" eller ren underhållning, men film som närmar sig världen med nyfikenhet och öppen blick.
Bra film fördjupar livet. Där finns det som inte går att förklara, människans och världens mysterium, alla lager av verklighet. En sanning, gömd i den vanliga världen, kan framträda in te minst i de diskussioner som följer på varje film. Under några år har vi sett film bland annat av Andrej Tarkovsky, Robert Bresson, Hirokazo Kore-eda,  Ingmar Bergman, Erik Rohmer, Bo Widerberg, Debra Granik, Kelly Reickhardt och många andra. Vi blandar "svårare" och "enklare" filmer, svenskt och annat - alltid med engelsk undertext.
Höst och vår har vi under en följd av år anordnat FilmDagar med ett valt tema, ett bra tillfälle att se flera filmer av en regissör och gå in och undersöka hans värld.

Programansvariga för Filmklubben 2023 är Magnus Ingvarsson, Viggo Johnsson, Daniel Markus  och Björn Engdahl, dominikanbroder.
Alltid introduktion före och samtal efter filmen, vanligtvis på engelska/ always introduction before the film and discussion afterwards
English subtitles to all films.
Medlemsskap i Filmklubben, 150 Skr för 2023 tecknas på plats / Membership 150 SEK for all films 2023, registration at the entrance
Filmerna visas i samarbete med Dominikanerna, Domino katolska studenter och Bilda
Discussion after all films
FILM JANUARI - JUNI 2023
FREDAG 20 JANUARI
19.30 Medea
by Pier Paolo Pasolini, Italy 1969, starring Maria Callas, Massimo Girotti
A free interpretation of the Greek myth Medea. According to Pasolini himself: "Medea is the slightly monstruos mixture of a philosophical tale and a love story...one can perceive an abstract structure: between an old religious world and a new lay world, the need for dramatic collision is necessarily produced."

FREDAG 3 MARS KL 19.30
Compartment no 6
Finland 2021 by Juho Kuosmanen, strarring Seidi Haarla, Yuriy Borisov, Dinara Drukanova
Two very different people find themselves sharing a compartment on a train from Moscow to Murmansk at the Arctic circle. Grand Prix in Cannes 2021.

FREDAG 31 MARS KL 19.30
Paris Texas
 by Wim Wenders, USA 1984, 2h 05 min, starring Harry Dean Stanton and Nastassja Kinski
A man wanders through lonely deserts and along forgotten roads, leaving endless landscapes behind. Who is that man? Is he lost? What is his final destination? This mesmerizing road movie takes its audience on a different kind of a journey, through the deepest parts of fragmented human souls yearning for healing that could finally bring them peace.
FREDAG 21 APRIL KL 19.30
The phantom carriage (Körkarlen)
silent film by Victor Sjöström, Sweden 1921, 1h 47 min, starring Victor Sjöström, Hilda Borgström, Astrid Holm och Tore Svennberg
A movie which has repeatedly been elected as the best Swedish film of all time, this 1921 silent film is groundbreaking in its visual storytelling yet eternal in its narrative on the themes of sin and redemption. Time is ticking. Can David Holm find a way to avoid taking up the reins of the approaching phantom carriage?
The films by Andrei Tarkovsky has followed us in FILMKLUBBEN. We now start to show all his films and start with Nostalghia, never seen on our screen before.
FREDAG 12 MAJ KL 19.30
Nostalgia
by Andrei Tarkovsky, Italy 1983, 2h 00 min, starring Oleg Yankovskiy, Erland Josephsson, Domiziana Giordano
A Russian poet, Andrei Gorchakov, visits Italy but is soon filled with nostalgia for his native country. He meets with Domenico, a strange man, a fool, a mystic who ralls against the impersonal modern age and Andrei starts to frequent him. A film close to Tarkovskys own life and filled with visual poetry.
FREDAG 2 JUNI KL 19.30
The young girls of Rochefort
by Jacques Demy, France 1967, 2h 06 min, starring Catherine Deneuve, George Chakiris, Françoise Dorléac
A two twin sisters face romantic troubles and decide to leave their hometown of Rochefort in this tragicomic musical. A film with far more depth and emotional complexity than one might expect from an otherwise often whimsical and frivolous genre.
FILMVECKA 3 - 8 februari 2023
WITHERS PROSPER - AGNÈS VARDA, FRENCH NEW WAVE CINEMA
 FREDAG 3 FEBRUARI
19.30 Varda Variety - lecture
Astrid Söderbergh Widding
Professor of Cinema Studies, Stockholm

followed by
Cléo from 5 to 7
France 1961, 1h 30 min, starring Corinne Marchand
Join Cléo a wellknown singer a summer afternoon. Meeting people, passing the busy streets and cafés of Paris with the fear of a close death in cancer in mind. Sophisticated and naked, joyful and scared to death, Cléo turns from being a woman looked at, to be the one looking at others and at the world something interesting is happening.

LÖRDAG 4 FEBRUARI
16.15 The Gleaners
France 2000, 1h22min, starring Agnès Varda
A playful journey through trailer parks, town museums, abandoned market squares and winemaking châteaus. We are invited to modern French society as seen by the gleaners - those who pick up what others have left behind.

18.15 Middag
Please bring something to share

19.30 Vagabond
France 1985, 1h 45min, starring Sandrine Bonneaire
A corpse is found. This is however no whodunnit – rather a whowasit, and a whoamI. With a documentary-like gaze on badly-destined Mona, Varda probes our involvment in the world. What do we really know about our fellow-beings, and ourselves?


ONSDAG 8 FEBRUARI
19.30 Le bonheur (Happiness)
France 1965, 1h 20min, starring Jean-Claude Drouot, Marie-France Boyer, Marcelle Faure-Bertin
Life painted in the brightest colours, all is fine, all is good. We are invited to everyday life in a new suburban area, and meet with a good family enjoying to be together. But something is going on. Is love always love? Where turns spontanous affection to cruelty?
WITHERS PROSPER
As a new postwar generation entered theworld of filmmaking in France clash emerged
between old and new over what cinemashould and could be. The traditional style of
French and Western cinema was starting tobecome predictable, motionless, moralistic
and hindered by taboos and rules. But this was all about to change, for the New Wave-directors
brought about the very opposite qualities. Theirs was a desire for authenticity, for what's vivid and moving.
With the ambition of showing everyday life they shot their films directly in the boulevards
of the cities as opposed to filming in studios, and instead of hiring actors to seem
like ordinary people they filmed ordinary people. This desire for simplicity and honesty
came to be a defining characteristic of the New Wave.
With her debut La Pointe Courte (1954), Agnès Varda was already ahead of her time by
touching on the themes of the New Wave before it had really started, earning her the
nickname "the grandmother of the New Wave". Throughout her films there is an
ever-present desire to expand the world of filmmaking giving them a unicity that sets her
apart even from the filmmakers in her own field. Her work is by her own account imbued
with a feminine perspective and generally starring female protagonists. These women
are often marginalised or somehow rejected because as they can't seem to prevent themselves
from being different or because they want to be different. Their outsider perspective
however provides a new outlook on life, whether it be one that reveals deep injustices
or kindred connections between the destinies of marginalised people.
Her films make us call into question what we mean by a prosperous life. The conventional
desires for career, family and joy are not necessarily enough to make one prosper as
a person. And people who seemingly wither, in the eyes of society i.e., can carry the key
to understand a deeper purpose in life. A purpose born out of genuine and meaningful
relations to those around us whereby one can truly prosper as a person. Varda's films always
give witness to her involvment in the lives of people as they are – tragic, vivid and beautiful,
just as is the case with our own lives.
                                           Daniel Markus, Filmklubben
FILMHÖST 2022
Söndagen 28 augusti kl 19.30
THE SEVENTH SEAL (SJUNDE INSEGLET)
by Ingmar Bergman, Sweden 1957, 1h 36m, starring Max von Sydow, Bibi Andersson, Nils Poppe
The most famous film from this part of the world. Set in the Middle Ages, it interprets the knight Antonius Block's struggle with Death (who here got his iconic presence with the white face and stern look). Inspired by his father's sermons in church, this production helped Bergman to overcome his own fear of dying.
Fredag 23 september kl 19.30
THE MAN WITHOUT A PAST
by Aki Kaurismäki, Finland 2002, 1h 37m
A man loses his identity and memory after being assaulted in a park which causes him
to being a new life living in community among the poor until his past finally catches
up with him. A humorously dry finnish drama set in Helsinki.
Fredag 28 oktober kl 19.30
BABETTE´S FEAST
by Gabriel Axel, Denmark 1987, 1h 43m, starring Stéphane Audran
In this drama set in 19th century Denmark it turns out that the greatest threat to the pious puritan convictions of two sisters is not promises of vanity, fame or relationships with men but rather the haute cuisine of France.
Söndag 11 december kl 19.30
INTO THE GREAT SILENCE
by Philip Gröning, documentary Germany 2005, 2h 49
Le grand Chartreuse in France, is a monastry of hermit munks living in complete silence. This film gives no description of their lives, but invites us to understand their silence from within. What is hidden and revealed in the silence?
FILMDAGAR 9 - 13 november
Like a rolling stone – films by Jim Jarmusch
With his second film Stranger than paradise Jim Jarmush came to personify the existential position of a new generation. The 1968 era of belief in change of society through political action belonged to the past. Society seemed dissolving with make-money-individualism of neo-liberalism as background. Stranger than paradis is post-punk, original and elegant and at the same time is undermining this story, as are the other Jarmusch films.
Arriving in New York in 1977 Jim Jarmusch, a 23 years old artistic musician discovered a city at the edge of collaps, dirty and violent. Large zones of destitute industrial and residential areas of great poverty formed the background to a vibrant artistic scene. This is the world of Jim Jarmusch and his films consequently pays no interest in the career people. His characters responds to an immediate situation, passive, lonely. It´s a reversed American Dream, a failed individualism where places look the same and where nothing much is happening.
And yet, life flows. The succeding shots are vaguely disconnected like in a collage containing minimal stories of their own. Societal disslution is contrasted with a filmic formal beauty filled with rythm and joy. The pictural rythm is phrased by remarkable music. In each film we screen the arrival of a stranger makes a stone start rolling, and play is on. The foreigner, speaking his incomprehensive language enters and induces humanity and surprise in life.
Onsdag 9 november kl 19.30
DEAD MAN
USA 1995, 2h 01m, starring Johnny Depp
William, who is on the run from the law, is forced to undergo a vision quest
after being rescued by a native American who is convinced that he is
the reincarnation of the poet William Blake. The improvised storytelling
helps us relate to Williams confusion and truly makes it worthy of the genre
title "acid western".
Fredag 11 november
DOWN BY LAWJim Jarmusch, USA, 1986, 107 min
Three prisoners escape and, however very different, they must collaborate.
But this film is not about plot – instead about chance, made with a rare sense
of freeform creativity. Thus an anti-Hollywood effort, typical of early
Jarmusch: adventurous, unexpected, quirky.
Söndag 13 november

18.15 DINNER

We share a meal before the last film - please bring small things to share, that will make up a dinner

kl 19.30

STRANGER THAN PARADISE

USA 1984, 1h19

Willie and his friend Eddie live carefree lives in New York without much purpose when Willie's cousin Eva becomes his unwanted visitor. Eva disturbs the stagnation and together the trio sets out in search of something. America has never been this boring, the film is not.

PROGRAM VÅREN 2022
Inte annonserad i vår programmet:
Fredag 17 juni kl 19.30
THE 400 BLOWS by Francois Truffaut, France 1959, 1h34min
A French classic inauguration the New Wave in cinema, fresh, vital. A landmark in popular cinema ever since.
Realism+1 - Five Sundays for Film
SÖNDAG 23 JANUARI
19.30 Umberto D
Vittorio De Sica, Italy 1952, 1h19 min, starring Carlo Battisti, Maria Pia Casilio, Lina Gennari
Umberto D, a poor elderly man in Rome, is desperately trying to keep his rented room. His landlady is evicting him and his only true friends, the housemaid and his dog Flike, are of no help. A neo-realist film with mostly non-proffessional actors. An historically and aestetically interesting film.
Introduction Daniel Landing
SÖNDAG 27 FEBRUARI
19.30 On the way to school
Pascal Plisson, documentary, France 2013, 1h17 min
Jackson, Zahira, Samuel and Carlito are all children who live in different countries but have something in common: they have to travel a long road full of obstacles to reach their school.
Introduction Baptiste Lambert
SÖNDAG 13 MARS
19.30 Blade Runner
Ridley Scott, USA, 1h57 min, starring Harrison Ford, Sean Young
Follow a police officer on a destructive journey through a world located in the near future that feels familiar, yet at the same time, distant, strange and disturbing, in this sci-fi classic.
Introduction Viggo Johnsson
SÖNDAG 10 APRIL
19.30 The Son
Jean-Pierre & Luc Dardenne, Belgium 2002, 1h39 min, starring Olivier Gourmet
A carpenter receives a new apprentice at the rehab center. How could they handle their common difficult past? A low-key, tense, realist film to discuss and remember.
Introduction br Björn Engdahl
SÖNDAG 8 MAJ
19.30 THE UNKNOWN GIRL
Jean-Pierre & Luc Dardenne, Belgium 2016, 1h53 min, starring Adèle Haenel
A doctor becomes (sort of) witness to a crime. The experience can't put her to ease, so she starts an investigation of her own. What does the doctor's oath demand, what is the responsibility of a witness?
Introduction Magnus Ingvarsson
_______________________________________________________________
Filmvecka 1 - 5 februari   
Mercury time - Luchino Visconti
Mercury is the liquid metal: viscous, vicious, veracious—fluid, yet integer. Like time… Mercury is also a messenger, a messenger of the Roman gods. Our messenger here is Count Don Luchino Visconti di Modrone (1906–76), one of the most renowned Italian filmmakers. Come and hear him out.
Mandatory information about Visconti's biography is that he was a nobleman, a communist, and gay—not the most normal mix of personal traits in mid-20th-century Italy. He is regarded as a precursor to neo-realism, but himself denounced a relationship to that movement. Instead, he developed a style very much his own: melodramatic, vibrant, elegant, very expressful and psychological. He often portrays the decline of the nobility, a subject matter of which his knowledge was second to none. The Visconti House is one of the oldest and most revered in Italy; for instance the Cathedral of Milan was built by an ancestor. But Luchino Visconti understood the inevitability of change (and the poision of time, mercury time), reflected in both his art and his personal life. He left a military career under Mussolini, went to Paris to discover Communism and to assist Jean Renoir in his filmmaking. He returned to Italy and created masterpiece after masterpiece for  the silver screen. His films are legendarily long and overacted. But don't be freightened or fooled. There is a bold rationale to all these manners, and there you can find stark insight.
He smoked 120 cigarrettes a day, and in 1972 suffered brain haemorrhage. In spite of declining health, he still managed to perform additionally two movies before his death. Evidently his expressive needs and powers were great. Discover Visconti. Experience the mercury of time—and learn to protect yourself.
Magnus Ingvarsson, Lund
TISDAG 1 FEBRUARI
19.30 Conversation piece
Italy 1974, 2h1 min, starring Burt Lancaster, Helmut Berger, Silvana Mangano
A wealthy and reserved professor is confronted by the realities of the post-1968-world when he rents out his upstairs apartment to a group of youths, exposing a clash of generations and values.
Introduction Daniel Markus
FREDAG 4 FEBRUARI
19.15 LUCHINO VISCONTI Lecture by ASTRID SÖDERBERGH WIDDING
Professor of Cinema Studies, Stockholm
followed by
Obsession
Italy 1943, 2h20 min. starring Clara Caramai, Massimo Girotti
A passion leading to murder. Realism and melodrama are mixed in the second film by Visconti. Made in fascist time with problems of censorship it gives a picture of Italy not appreciated by the regime.
LÖRDAG 5 FEBRUARI
18.00 Dinner
19.30 The Leopard
Italy 1963, 3h6min, starring BurtLancaster, Claudia Cardinale, Alain Delon
What does it take to remain on top? Follow the struggle of the gentry of Salinas in 1860s Italy. In all senses, a very big film. The favourite of Martin Scorsese. Also recognized by the Vatican in 1995.
Introduction by Magnus Ingvarsson
PROGRAM HÖSTEN 2021
  Adventure in The biggest little farm. An new or perhbs old kind of listening

SÖNDAG 26 SEPTEMBER
19.30 Fog of war
Errol Morris, USA 2003, 107 min
Exploring the topics of war, failure and knowledge, controversial American secretary of defense (1961-1968) Robert McNamara shares eleven lessons from his long career in business and politics in this Academy Award winning documentary.  Having witnessed recently the US failure in Afghanistan this film gains new actuality. 
SÖNDAG 24 OKTOBER
19.30 Our biggest little farm
John Chester, USA, 2019, 92 min
A young couple leave their urban life of living to persuit a life in harmony with nature by developing a sustainable farm in the Californian wilderness.
______________________________________________________
FILMDAYS: TRANSITIONS IN TIME
Three films Wednesday Nov 10th - Sunday Nov 14th
Maybe the people in the modern world are more than at any other point in history subject to constant change. We are expected to adapt to new technology, new societal structures and political ideas spreading faster than ever before. While we today in some sense might be uniquely subject to the force of change we are however not the first to deal with the issues and questions the movement of time entails.
From the ancient philosopher Parmenides, who claimed that time was an illusion, as it otherwise would have been impossible to ever know anything about the world, to Marx and Engels' claim in the communist manifesto that capitalist society results in a state where "all that is solid turns into air, all that is sacred is profaned", thinkers and artists have throughout history examined the concept of time. This semester the Filmklubben Sandgatan 8 explores this topic through three films that in their own ways portray humans dealing with a world changing around them.
Introductions before and discussions after the films. Dinner at 18.00 on Sunday, before the film - please join with something to share with others
ONSDAG 10 NOVEMBER
19.30 Bicycle thieves
Vitorio de Sica, Italy 1948, 89 min
Watch one of the neo-realist classics, at the same time heartfelt, funny and socially committer. Awarded an Oscar it was however considered a communist movie. In 1940s Italy you needed a bike to work - in sweden 2021, you stil need it (at Foodora).
FREDAG 12 NOVEMBER
19.30 Koyaanisqatsi by Godfrey Reggio, USA 1983, 82 min
Enter this space-time-story with all your senses. An exuberant, intense experience on the beauty of life threatened and mistreated, but still flourishing beneath. An important film, in film history and still today. Look at these people at Times Square - is it not us? The music by Philip Glass follows closely the pictures.
SÖNDAG 14 NOVEMBER
19.30 The remains of the day
by James Ivory, United Kingdom, 1993, 134 min
A butler who sacrified body and soul to service in the years leading up to World War II realizes too late how misguided his loyalty was to his lordly employer..
 _____________________________________________
SÖNDAG 5 DECEMBER
19.30 First cow
Kelly Reickhardt , USA 2019, 122 min
An American story with warmth and friendship but also vulnerability and tragedy. A Western of another kind, no heroes and no glory. We meet with a USA where old and new values are confronted. A story of our time.
PROGRAM VÅREN 2020
Filmdagar 26-29 februari
PASOLINI WHAT HAS TO BE SAID
 "I´m a man from another era", says Pier Paolo Pasolini in an interview at end of his life. Not all true, but his statement translates his unease and criticism of Western society, more specifically Italian sociaty around 1970.
Pasolini, a man of great complexity, with broad interests and skills, moved from one creative expression to another. Poetry, politics, film making and philosophy, in all areas he choosed for the adequate mean of expression of his visions. Some of his films are among the most discussed, most appreciated and most critizized pieces ever made.
Pasolini had to talk and he talks in natural lyrics, playful erotic and even dark sado-masochistic violence. His work, whatever form choosen, expresses love for the simplicity of the uneducated and traditional peasants and workers, people living their own culture in local regions of Italy. It´s a world breathing Catholic faith and mythology, directness, joy, violence and eroticism. Pasolini gives witness to this popular world being destroyed by the rise of technocratic society, the consumism and the modern media world.
During our Film Days we present three very different pieces. The Gospel according to Matthew, Teorema and Mamma Roma takes place in different times and surroundings. In common they have the intense engagement and longing for life in contrast to conformism and destructive power.
ONSDAG 26 FEBRUARI
19.30 The Gospel according to Matthew, Italy 1964
A beautiful and strong story of the life of Jesus,  in dramatic shape,closely following the Gospel story,  putting conflicts in sharp relief.
 FREDAG 28 FEBRUARI
19.30 Pasolini   What has to be said is introduced by Astrid Söderbergh Widding
Professor of Cinema Studies, Stockholm
followed by
Teorema
Italy
1968, 98 min
A stranger´s visits to a well-off family, a visit that profoundly shakes it´s members, no return to the ordinary possible!
LÖRDAG 29 FEBRUARI

17.30 Middag
19.30 Mamma Roma

A former prostitute woman in a Rome suburb tries to raise her teenage son to a better life. Not an easy task.
FILMKVÄLLAR
SÖNDAG 9 FEBRUARI
19.30 The Conformist, Italy, Bernardo Bertolucci
FLOATING FREEDOM
The modern world and times brough many changes. Post-war optimism sparked a rapid cultural change on all levels of society. Taboos were broken and norms redefined. A desire for freedom was becoming strong, returning liberalism, sexual liberation, hippie-movements are just a few examples of this. Freedom is a precious thing. But freedom without any goal or direction? And freedom for others but me?
SÖNDAG 15 MARS
19.30 EASY RIDER
Dennis Hopper, USA 1969
A classical counterculture film about the social tensions of the late 60s.
SÖNDAG 5 APRIL
19.30 SLACKER
Richard Linklater, USA 1991
Following person to person in a US city, a mighty impression of
a floating, non-determined reality is created.
Gäst väljer film: KALLE LIND, diversearbetare i kulturbranschen
Känd som författare, från podden Snedtänkt och som kolumnist har Kalle Lind med gott sinne för humor och det excentriska blivit en populär kulturperson. Återkommande teman i Kalles författarskap är egendomliga personer och bisarr kulturhistoria.
TISDAG 21 APRIL
19.30 ANNIE HALL
Woody Allen, USA 1983, 106 min
Author of his own problems,
Alvy Singer falls in love too
easily. One of Allens most
appreciated films.
PROGRAM HÖSTEN 2019
FILMDAGAR 9 -12 oktober
LOVING CAPTIVITY
No movie director has started a career more successfully than Mike Nichols (1931–2014). His first two films are unanimously considered as masterpieces: Who's Afraid of Virginia Woolf? (1966) and The Graduate (1967). Both were, each by themselves, groundbreaking accomplishments, fundamental to 1960s cinema, definite classics – not only for formidable acting by Elizabeth Taylor, Richard Burton and debutant Dustin Hoffmann, but also for their novel presentation of a, for its time, provocative substance: hidden terms in love. WAVW displays the broken backstage of a bourgeois marriage, TG demonstrates a trap of desire. Nichols's courageous treatment of such toxic affairs continued in Carnal Know- ledge (1971), a brutally honest and disarming portrayal of the sexually liberated America of the '60s. The erotic theme was pushed further later on, in Closer (2004), but by then time had fled Nichols. He was a man of the late '60s and early '70s, when so many constraints were loosened but not lost; arguably, he is one of that era's finest artists. The scheduled films are made with a maximum of expressive freedom. In them, we however meet captivated people – individuals imprisoned in systems like marriage, encapsulated in demanding desire and duty. Sometimes they are aware of their cirumstances and do what they can to endure. The situation is most acute in Catch-22 (1970), a "war comedy" scened in World War II. Its audience is thrown from hilarious jests to naturalistic imagery of bloody hell. The question it puts is this: Can you be sane in a crazy world? Indeed, a catch-22.
Magnus Ingvarsson, Editor, Lund
ONSDAG 9 OKTOBER
19.30 LOVING CAPTIVITY - theme of the Filmdays
MAGNUS INGVARSSON Editor, Lund introduces.
The introduction is followed by
CATCH-22
Mike Nichols, USA 1970, 122 min
Comedy and war? Here we find the combination, realism, fun and cruelty; all expressions neighbours each other to present the absurdity of the business of war.

FREDAG 11 OKTOBER
19.30 WHO´S AFRAID OF VIRGINIA WOLFF
Mike Nichols, USA 1966, 131 min
You are cordially invited to George and Martha's for an evening of fun and games." In the living room of an academic couple a drama takes place. What happens when illusions are forced to become reality? This film won many awards and is based on the famous play by Edward Albee.

LÖRDAG 12 OKTOBER
17.30 DINNER
Bring a small thing for the table.
19.30 THE GRADUATE
Mike Nichols, USA 1967, 106 min
A  young man lost between youth and adulthood is struggling to mature. He is soon caught in a lovetriangle where he will have to make a choice.  The soundtrack with songs of Simon&Garfunkel adds to the fame of this film.
FILMKVÄLLAR
Filmer av Debra Granik och bröderna Coen
Debra Granik
Getting close
Debra Granik has a special ability. Her films breathes closeness and profound interest in what is different and put aside in the American – or more generally Western – society.  Leaving the well-known, she goes out to find people at the edge, in situations where persistence in love is an urgent need. Her main characters, young girls, find strength in the impossible. Granik makes them speak to us and makes us listen, as she does herself. The girls portraited are living i close realtions. They are, as in the Mike Nichols films captured in their relations.
Debra Granik was born in Washington DC in 1963 and has made only a few longer films. In Winter´s bone  2010, she went to the Missouri Ozark mountains, to poor and desolated people and invited them to contribute in telling their story. Leave no trace made in 2018 enters an other outcast reality. Here the scenery of the forestian and wild northeast USA attracted Granik, making a film with the beauty and sensulity of the natural world in contrast to a hard and bleak modern society.
"It's a very hard thing for mainstream society to accommodate non-conforming individuals, says Granik in an interview and concludes her view: "I would say live and let live."
Bröderna Coen
Commonplace, yet extraordinary
Joel and Ethan Coen, commonly known as the Coen brothers, were born in a Jewish family in the 50s and have gained international fame with films such as The Big Lebowski (1998), O Brother, Where Art Thou? (2000) and No Country for Old Men (2007). As students Joel graduated with a bachelors degree in film and Ethan in philosophy. The brothers direct and produce their films together although up until 2004 Joel received sole credit for
directing and Ethan for producing. Their
perhaps most famous trademarks are their a
bility to tell a simple story in a complex
manner, mixing several already established genres and, to quote them, "not giving a shit about peoples sensitivities" in their film making. By doing so they manage exposing the simple truths of everyday life and creating a world of believable and often flawed characters that manage to engage the viewer in a humbling and humane way.
SÖNDAG 8 SEPTEMBER
19.30 FARGO
Joel Coen, USA 1996, 92 min
A failed car salesman, Jerry Lundegaard, secretly kidnaps his own wife for the ransom money but is soon stalled by the inquisitive police officer Marge Gunderson.

FREDAG 1 NOVEMBER
19.30 LEAVE NO TRACE
Debra Granik, USA 2018, 104 min
A man escapes lives with his teenager daughter hiking in nature, avoiding contact with society. But could it continue this way? As the film develops it becomes a story about different life perspectives, finding freedom or just another prison.

SÖNDAG 24 NOVEMBER
19.30 WINTER´S BONE
Debra Granik, USA 2010, 95 min
In the rural and remote heart of America we follow a girl, seeking justice, and her father. On a countryside where it's best to keep to yourself and your own it can be dangerous to upset the locals and the status quo. A dark film with an atmosphere that drags you in and feels convincingly real.

SÖNDAG 8 DECEMBER
19.30 A SERIOUS MAN
Ethan and Joel Coen, USA 2009, 106 min
The Coen brothers turn to their Jewish background. Lot´s of humour but really not only that. Things does not go alright with Larry Gopnik who wants to be a serious and good man.
Filmklubben våren 2019
FREDAG 1 FEBRUARI
19.30 LEVIATHAN
Andrej Zvyagintsev, Russia 2015, 125 min
A man and his family opposes the local authorities and an infernal struggle starts where no means seems to be forbidden. Loving people, drunken people, silent beauty, authoriatarian terrorism... you find it all in the fim of stong character and meaning
LÖRDAG 9 FEBRUARI
19.30 LOVELESS
Andrej Zvyagintsev, Russia 2017, 127 min
A couple caught up in a separation drama end up losing their son instead of eachother, after one of their arguments. In order to find him again, they decide to temporarily put their differences aside.
 FilmDagar onsdag 20 februari - lördag 23 februari 2019
Reality Transcended -  Films by Robert Bresson       

To manipulate feelings cinema is a strong medium. The plot told with dramatic tension and peaks, acting emphasizing feelings of love or conflict, it all aims at seducing the audience. Beautiful sceneries contribute and not at least a soundtrack that directs the story more than any image. Shots taken from always new camera angles fulfills the variations. The audience should be shrilled and why not? The distractions do have their place. But will they ever satisfy the ones hungry for not only sweets but really nourishing food? To get nourished in the spirit, food for the inner person to live and to be lifted up demands other means.
The repetitions of everyday life can seem monstrously dull. Days comes and goes and life passes by. The films of Robert Bresson make use of the cold reality to create films where the factualities of the everyday is underlined. That is what is in focus, but does not have the last word. Amazingly enough the continous flow of the films has the quality of opening the door to a bigger reality. The small details of actions in everyday life transcends to a spiritual opening. Man´s aspiration to freedom and brotherhood breaks through. The walls of imprisonment of the everyday is torn down by an insisting human presence.
This is a spirituality from below where it isn´t supernatural vision opens reality, no extra sentiments is used to fill the void. It is the harsh reality that counts. The transformation of the human person arrives in the middle of his normal activities, accomplishing his tasks and failing to fulfill the expectations of the surrounding environment.
Is that the end? Finally there is a burst out from the surface of which the everyday life reality is made, the dictatorship of the factual all breaks down. Relief and beauty is all there against a still greyish background.
Björn Engdahl OP, Filmklubben
Robert Bresson
"Improve reality with reality", says Robert Bresson. A device that this director seems to follow with insistence and in the smallest detail. Bresson is in search for truth and establishes his own way to make films where detail, precision and sincerity are in focus. In making films he strives to come back to the first impression, to rediscover the experience of a person or of an incident he met with in life. Bresson follows his intuition but with great caution:  "You have to be able to feel the soul and the heart in your film, but it should be made as handicraft", he says.
ONSDAG 20 FEBRUARI
19.30 Registration
followed by
A DIARY OF COUNTRY PRIEST
Robert Bresson, France 1951, 115 min
A young priest arrives at the countryside to his new and first parish. Will his grand dreams survive the realities of everyday life and his failing health?
FREDAG 22  FEBRUARI
19.30 REALITY TRANSCENDED
Introduction by Astrid Söderbergh Widding, Professor of Cinema Studies, Stockholm University
followed by
PICKPOCKET
Robert Bresson, France 1959, 104 min
Michel starts out as a petty thief in the metro and in the streets of Paris. The stealing becomes like an addiction with the skill, the risk and the tension it brings about. But there is someone observing him who will put an end to his career.
 
LÖRDAG 23 FEBRUARI
18.00 DINNER - Bring a small thing for the table and we share it all
followed by
19.30 THE DEVIL PROBABLY
Robert Bresson, France 1977, 116 min
A student, Charles, has nothing but overwhelming gloom in his life and finds no comfort in any religious conviction. He finally decides that life too much to handle and so decides to end it. But he still fears the consequences, believing that suicide being a mortal sin…
After the FilmDays we continue with the same theme

SÖNDAG 10 MARS
19.30 A MAN ESCAPED
Robert Bresson, France 1956, 101 min
We continue the the FilmDays theme. In France during the Second World War we watch a man trying to escape from a Nazi prison. A quiet and simple film, with small things leading up to a striking finish.
End ot semester two films by Wim Wenders:
Wim Wenders - Poet of the open road
Wenders was born in 1945 into a catholic family living in Düsseldorf. He studied medicine and philosophy until he dropped out and instead moved to Paris in order to become a painter. He was almost obsessed with film and cinema and often watched up to five films a day at the local movie theatre, and later applied to the national film school of France but failed to enter. Despite having been let down, he decided that film making was to be his life's work back in Germany.In the 1970s, together with Rainer Werner Fassbinder and Werner Herzog, Wenders was one of the founding members of the New German Cinema. Today he is perhaps best known for his documentaries but is equally adept at dramas. Because of his reoccurring cinematographer, Robby Müller, Wenders films often feature a particularly impressive visual imagery. Another common trademark is his interest in finding identity in a greater context and the searching for truth in the world that surrounds us, following the journeys of people as they search for themselves.
TORSDAG 28 MARS
19.30 THE AMERICAN FRIEND
Wim Wenders, West Germany 1977, 125 min
A terminally ill German picture-framer becomes involved with the mob through his American friend. An atmospheric and existential thriller with a scope beyond simply thrilling entertainment.
SÖNDAG 12 MAJ
19.30 WINGS OF DESIREWim Wenders, West Germany 1987, 128 min
An angel, visible to the audience but not the people in the film, walks around a Berlin still divided by east and west. He talks, reflects, consoles and small and particular dramas take place.
 FilmDagar onsdag 12 - söndag 16 februari 2018
Bergman 100 - Rädsla, uppror, glädje

With his many films and theatre plays Ingmar Bergman, 100 years 2018, stands out as a remarkable director. In renewing cinema in the post-war period, he makes use of his personal character to create dramas of both tension and joy. Filmklubben presents on these Filmdays three films very different from each others.



ONSDAG 12 SEPTEMBER
19.30 REGISTRATION
followed by
HETS/Torment Alf Sjöberg, screenwriter Ingmar Bergman Sverige 1944, 136 min
A sadistic school teacher nicknamed Caligula by his students, and seemingly inspired by Bergman's real life father, teaches latin at a Stockholm high school. The fact that his cruel way of teaching awakes the students hate against him doesn´t seem to bother him. That is, until things go too far, thus revealing an entirely different side of him.
TORSDAG 13 SEPTEMBER
19.30 BERGMAN 100:  FEAR, REVOLT, JOY
Introduction by Magnus Ingvarsson, Lund
Editor and advisor of Filmklubben
The introduction is followed by
GYCKLARNAS AFTON/Sawdust and Tinsel
Ingmar Bergman, Sverige 1953, 93 min
The travelling cirkus is in a decadent state without hope for the future. Humiliations and poverty follows, it seems to be the end. But is it? Is there not also joy possibilites in life and play that goes beyond expectations?
 
SÖNDAG 16 SEPTEMBER
17.30 DINNER Bring a small thing for the table, please!
19.30 TROLLFLÖJTEN/The magic flute
Ingmar Bergman, Sverige 1974, 92 min
The classic opera by Mozart made alive again through the interpretation of Bergman. In an interesting take where we watch both scene and audience in an attempt to explore the "noble magic of the illusory  theater" Bergman creates something new, but still stays true to the original.
Bergman 100- fear, revolt, joy
by Magnus Ingvarson, editor, Lund
Ingmar Bergman was the first to treat existential issues on the silver screen. What Dostoyevsky is to literature, Bergman is to cinema. On his 100th year, Sweden celebrates its greatest artist, and Domino joins in.
As the son of a Lutheran priest, Bergman's narrative often takes the form of religious doubt, themes of humiliation and, eventually, the search of a dignity within the human spirit, beyond a burdensome notion of God. But as previous discussions in Domino FilmForum have shown, Bergman never really leaves the Christian realm, and his world famous atheism is, on a closer look, not that convincing.
On a psychological level, Bergman depicts the constant, inescapable interplay between layered human masks, put on for protection but causing personal breakdown.
But be not fooled. The play, and indeed even the mask, carries also joy. Fundamentally, Bergman is a man of the theatre, with a loving embrace of all its genres from drama to comedy. This becomes evident not the least in the festive adaptation of The Magic Flute, not to be missed.
Cinematographically, Bergman was daringly innovative. In Summer with Monika (1953), an actor (Harriet Andersson) for the first time in the history of cinema makes eye-contact with the audience. The close-up of the human face is, in Bergman's view, the true soul of film, and his zooming technique vitalised the intimate co-operation with the actors, which became legendary.
Sawdust and Tinsel and Torment were shot 65 and 74 years ago. They still speak to us. This is to say: Bergman made films in black and white, but we can see the colours.
FilmHöst 2018
Att lita på - filmer av Kelly Reichardt
In the films of Kelly Reichardt we meet with people facing exceptional situations where trust is questioned. The storytelling is seemingly minimalist, days passing by with everyday events, but these are standing in front of the dramatic background. Reichardt takes no interest in telling the meaning of the plot: "That goes against everything that I just worked for. So I have no interest in summing it all up. It's all out there", as she says in an interview 2014. Life is interesting enough if you stay with it.
LÖRDAG 6 OKTOBER
19.30 WENDY AND LUCY
Kelly Reichardt, USA 2008, 80 min
During the financial crisis of 2008, a woman and her dog attempt a travel to Alaska in search for work, scarce in America due to the crisis. The journey turns out to be full of obstacles but help also arrives, although not the way one might expect it to.
SÖNDAG 28 OKTOBER
19.30  MEEK´S CUTOFF
Kelly Reichardt, USA 2010, 98 min
A group of settlers are traveling through the American frontier in
search for a better life. However, they soon find themselves lost and without a proper guide in the desert with their water supply running low, that is until they capture a native American that could help them. But can he be trusted?
SÖNDAG 18 NOVEMBER
19.30 NIGHT MOVES
Kelly Reichardt, USA 2013, 112 min
A band a young friends engaged in societal questions takes their action. Good intentions, but how about the results? An action movie of a different kind.
FilmDagar torsdag 8 -  söndag 11 februari 2018
Vad längtar du efter? / What are you longing for? - tre filmer av Yasujiro Ozu och Wim Wenders
TORSDAG 8 FEBRUARI
19.00 Registration Membership 60 SEK for all films 2018, registration at the entrance
19.15 Introduction by ASTRID SÖDERBERGH WIDDING Professor of Cinema Studies in Stockholm.
Astrid also joins for the  discussion after Thursday and Friday films.
The introduction is followed by
TOKYO STORY by Yasujiro Ozu, Japan 1952, 136 min
An old couple come to visit their children who moved to Tokyo. In a quiet way the visit goes bad. From a few elements Yasujiro Ozu made one of the greatest films of all time. It doesn't force the emotions, but rather invites to share and understand the complexity of life in a quiet way.


FREDAG 9 FEBRUARI
19.15 Registration Membership 60 SEK for all films 2018, registration at the entrance
19.30 LATE AUTUMN  by Yasujiro Ozu  Japan 1960 129 min
Late Autumn begins and ends with an almost tangible scene of human warmth. From the opening memorial service to the closing scenes, a wedding, the film creates an atmosphere thick with irresistible humour and depth. Beyond the more aesthetic details Late Autumn is at heart an undeniably humorous yet touching story about the nature of humanity.
SÖNDAG 11 FEBRUARI
17.30 DINNER  Bring a small thing for the table, please!
19.15 TOKYO-GA by Wim Wenders, USA 1995, 92 min
In this documentary Wim Wenders travels to Japan in search for the Tokyo seen in Ozu´s films. What he seems to find is something else, and he takes us through what might be a totally commercialized city. But is it all? Wenders stays in wonder. He does not find much of Tokyo city of Ozu, but he does find something, perhaps more interesting, a way to look at and to participate in the intimacy of peoples lives.
FilmDagarnas tema
Vad längtar du efter?
Människor längtar ständigt efter olika saker, allt beroende på ens personliga dispositioner. Sett ur ett filosofiskt perspektiv har ett vanligt sätt att förklara denna längtan varit att reducera den till viljan att vara glad. Såväl Aristoteles som St. Thomas av Aquino har som exempel på detta utnämnt lyckan som människolivets yttersta mål. Men enligt dem rör det sig inte om social status, materiell rikedom eller njutning.
I den japanske regissören Yasujirô Ozus filmer möter vi den längtande människan. Berättelserna utspelar sig i efterkrigstidens Japan under det oundvikliga uppbrottet mellan den gamla tidens skönhet och isolation å ena sidan och å andra modernitetens ständigt hänförande intryck och avförtrollning. Dessa dramer kompletteras av regissörens nyskapande talang på ett rent praktiskt plan då filmerna systematiskt tar avstånd från den etablerade stilen som präglade Hollywood. Ett kännetecken är de låga kameraplaceringarna och de statiska scenerna där kameran inte rör sig alls. Nyskapandet är dock inte ett ändamål i sig för Ozu utan hans speciella stil fyller funktionen av att ge filmerna en mer egen och intim karaktär.
I motsatsförhållandena modernt - tradition samt förälder – barn som Ozu beskriver, kommer ofta längtan efter lycka till uttryck. De unga vill söka nya vägar att utforska bortom det traditionen eller föräldrarna genom erfarenhet menar är bäst för dem. Men i slutändan kan de varken finna sig i den nya tidens föränderlighet eller i nostalgi gentemot den gamla. Detta eftersom deras glädjelängtan inte går att finna i lust, rikedom, ära eller i det kroppsligt goda utan i något helt annat, precis som Aristoteles och St. Thomas av Aquino påpekar. Det innebär dock inte att livets mer materiella aspekter är av ondo eller bör förbises, utan att de inte är tillräckliga i sig.
Men vad är det då som saknas? I Johannesevangeliet 6:27 uppenbarar sig en lösning på gåtan: "Men sträva inte bara efter att få mat för dagen, utan sträva efter den mat som kan ge er evigt liv, den mat som jag, Människosonen, ska ge er".
Daniel Markus och Simon Bakran, VT-18
The Directors
YASOJIRO OZU
Japanese director, born in 1902. Ozu explored the tensions of a country trying to reconcile modern and traditional values. Ozu started as a director of silent cinema in the 20ies and Late Autumn in our program is his very last film in 1962. His camera work was now perfected: a fixed image frame within a mostly closed in space. The severity of composition brings forward the vividness of the characters, a humouristic friendlyness and comic surprises. With the words from Wim Wenders in our film Tokyo Ga:
"If in our century, something sacred still existed, if there were something like a sacred treasure of the cinema, then for me that would have to be the work of the Japanese director Yasujirô Ozu… never again since has the cinema been so close to its essence and its purpose: to present an image of man in our century, a usable, true and valid image in which he not only recognises himself, but from which, above all, he may learn about himself."

WIM WENDERS
In the70ies Wim Wenders, born 1946 in the American zone of the occupied Germany, made a trilogy of road movies. Moving around the world has also been his way, depicting human consequenses of the modern society. His critics are not of the confrontative kind, rather poetically beautiful portraits on the threats and possibilities of man.
Wenders belongs to the young german film makers, together with Rainer Fassbinder and Werner Herzog, looking behind the facad of the post-war German society in the 60ies. For Wenders the person alive behind the mask of conventions and mass produced individuality seems to be the main theme.
Among his films you find the quite burlesque The American Friend in 1978, Paris Texas, an influential film in the 80ies which was followed by Wings of Desire with an angel walking around Berlin, then still a devided city, consoling and helping people in need. In later years Wenders has focused on documentaries, still creating films faithful to his humanistic look on man.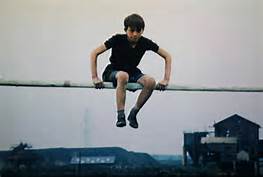 FilmDagar : Skall jag ta hand om min broder?
-tre filmer av Ken Loach och Gabriella Pichler
För studenter och unga vuxna.  Introduktioner till alla filmer.Medlemskap i Filmklubben 60 SEK vid entrén 15 minuter före varje film.
torsdag 5 oktober  19.30
Äta, sova, dö av Gabriella Pichler, 104 min, Sverige 2012
Set in modern Sweden, this is a realistic portrayat of an unemployed girl struggling to find a job for herself and her father. All she strives for is that life should offer something more. More than just eat, sleep,die.
fredag 6 oktober 19.30
Introduktion av Wiktor Ericsson, regissör till årets uppmärksammade film Jordgubbslandet
följt av
Kes, falken av Ken Loach, 111 min  England 1969
A working-class boy is bullied at school and abused at home. But through the care of his teacher Mr. Farthing and some of his friends from school he manages to keep his spirit and appreciation of life alive by taming and training a falcon. That is until things take a turn for the worse.
söndag 8 oktober kl 19.30
Jag, Daniel Blake av Ken Loach, 100 min, England 2016
A man navigates to survive in England of today. It turns out to be a difficult thing, however, when supportive institutions are revealed to be systems of control and technic. Follow Daniel on his journey to maintain dignity and love, joining others struck by precarity.
Ska jag ta hand om min broder?
Film har en lika stor bredd i termer av sitt format och innehåll som litteratur, musik eller vilket annat konstmedium som helst. Ändå tycks aversionen inför långsamma och mer allvarsamma teman vara större än inom andra konstformer då ett litterärt verk sannolikt inte hade mött samma motstånd trots sitt innehåll. Istället för minimalismens mantra "less is more" hör man "less is bore". Men film kan även vara något annat som varken är pretentiöst eller klyschigt idealistiskt (eller trendigt cyniskt för den delen), något vi kan kalla verklighet. I vårt postmoderna samhälle rör vi oss mot en frikoppling av individen som ofta speglas i kommersiell film. Vi är drivna av en törst efter total frihet och självförverkligande, detta kanske just för att själva känna oss verkliga. Men det är just verkligheten i allt sitt allvar och sin såväl långsamma som snabba takt som träffar oss i filmer som Kes, I, Daniel Blake och Äta sova dö. Vi möter porträtt av verkliga människor som inte riktigt är fria utan lever sina liv bland andra människor och i beroendeställning gentemot andra människor, sådana som vi kanske inte ser när vi vänder blicken inåt mot vår egen livskarriär. När andra människor, fattiga människor, de i medier "osynliga" människor eller mer poetiskt uttryckt "min broder", enbart blir ett medel eller ibland hinder för vår egen framgång finns det inte plats för beroende och i dess utsträckning empati och relationer. "Sannerligen, vad ni inte har gjort för någon av dessa minsta, det har ni inte heller gjort för mig" säger Jesus i Matteus-evangeliet 25:45. I det skenbart lilla döljer sig i själva verket det stora!
Daniel Markus och Simon Bakran HT-17
Fler filmkvällar hösten 2017
tisdag 12 september kl 19.30
Mannen utan minne/The man without a past av Aki Kaurismäki, Finland 2002
torsdag 9 november kl 19.30
Min natt med Maud / My night at Maud´s av Eric Rohmer, Frankrike 1969
söndag 3 december kl 19.30
En sommarsaga / A summer´s tale av Eric Rohmer, Frankrike 1996, 113 min
tisdag 19 december kl 19.30
Pauline på stranden/ Pauline at the beach, Eric Rohmer, Frankrike 1983, 94 min
FilmDagar : TVIVEL / Doubt
tre filmer av Ingmar Bergman och Andrej Zvyagintsev
                      

English subtitles to all films. Films followed by discussion.
Torsdag 2 mars
19.00  Registering för medlemskap i Filmklubben 2017, 60 SEK
19.30 Introduktion av Astrid Söderbergh Widding, professor i filmvetenskap vid Stockholms universitet. Astrid also joins for discussion after the films on Thursday and Friday, 
The introduction is followed by
Nattvardsgästerna / Winter light
Ingmar Bergman, Sverige 1963, 81 min
Sweden 1963, the church is almost empty when celebration starts.  The countryside priest tries hard, inside it´s empty and cold: -istn´t all  just hypocrisy? An event makes things evolve. Is love possible? Could that silent God spreak?

Fredag 3 mars
18.00 Gemensam middag
19.30  Det sjunde inseglet / The seventh seal
Ingmar Bergman, Sverige 1957, 96 min
A travelling comedian company, people on the move with actions of violent repent when the plague threatens, a knight looking for a life to live. A story of contradictions in the 14th centrury landscape.
Söndag 5 mars
19.15 Återkomsten / The Return
Andrej Zvyagintsev, Russia 2003, 105 min
Two boys reunite with their father, known to them only through a photograph, and experience an emotionally clashing journey through the russian wilderness together.
Kan tvivel hjälpa?
I diktaturer som Sovjetunionen, Nazi-Tyskland framställs propagandabilder med unga och starka människor,som ger sig själva helt och fullt i arbetet för nationen. Blicken är spänd framåt, mot det ljuset  dit man vet att partiet och ledningen för dem.  Alla människor är glada, sunda, helgjutna.
Den programmatiska glädjen och trosvissa framåtandan karaktäriserar auktoritära system, stater och rörelser. Verkligheten framställs lätt att förstå. Man vet vart man skall och vilken som är den rätta vägen. För detta kämpar man med alla medel.
I det auktoritära har tron konsumerats av ett vetande som tränger ut alla tvivel. Tron på det Enda har blivit allenarådande och verkligheten delats i två: för och emot, ont mot gott, vi mot dem. Dualismen leder i sin konsekvens till sadistiskt våld: det onda skall utrotas, det Enda skall råda.
Principen ligger djupt begravd i det västerländska tänkandet. den kristna traditionen också den burit det auktoritära med sig, min i dess kärna har något annat gjort sig hört. När Gud, annars långt borta, föds som människa träder en tredje part in i den skapade världen, Guds kropp att tillbe och längta efter. Här friläggs en möjlighet att få kontakt med det totalt annorlunda och för kroppen och hjärtat kan smaka det helt omöjliga. Det som undertryckts av vetandet att Ett är rätt, Ett är gott, kan framträda som en glädjefylld längtan som är uppfylld mitt i törsten och hungern. I Bergmans Nattvardsgästerna och Det sjunde inseglet som vi visar på vårens FilmDagar möter vi tvivlare på väg. Det är människor som brottas med världen och dess auktoritära traditioner. Livet verkar torrt och fattigt på glädje och vägen framåt svår att urskilja. Men behöver man veta? Kan livet istället vara tillit till det okända, det som inte manifesterar sig med högljudda paroller? Kan det vara en liten stig, eller en lekfull kärlek?  I Zvyagintsevs  Återkomsten ställs saken på sin spets när den auktoritäre fadern provocerar sonen till upproriskhet.
Nutiden präglas av längtan efter tydlighet och säkerhet i en värld som framträder som oöverskådlig. Våra tre filmer kan ses som ett korrelat till det enkla svaret och ger en ton av något annat, något som viskar svagt i människors inre.
Björn Engdahl op
Ingmar Bergman
Ingmar Bergman (1918-2007) is one of the most wellknown Swedes of his generation,
famous because of his films, seen and discussed all over the world.
It´s films with psychological depth and tension, intense photo with close-ups
and exceptional acting. The films and his personal life goes hand in hand.
Son of a Lutheran priest he turns away from faith, or perhaps rather struggles
with his loss and the distance of God. The struggle is present in many films.
Authoritarian men, their counterparts of longing women and men, families
enjoying life careless of religious questions reappears frequyently. Where
can meaning be found, how can we live together are some questions.
Early films like Hets/Torment (1945) are already personal art pieces of film,
but especially the films from the 60ies develops his filming, which you meet in
our two films.
Andrej Zvyagintsev
Andrej Zvyagintsev could perhaps be seen as a successor of Bergman and Andrej
Tarkovsky. The long takings, the tension,the spiritual background expressed in
themes and filming estabishes a connection. Born in 1964 he is of a younger generation.The Return is his first film made at the shores of the lake of Ladoga. The
northern sites reappear in his films, as the last one made in 2013, Leviathan, made
at a coast of village in the Murmansk region. His films are intense defense s of the
human person, tending to be put aside by the society.
Övriga filmer under våren
Märklig framtid – natur, teknologi och dystopi

alla filmer 19.15
Onsdag 18 jan          Kon Tiki 
Söndag 5 feb            The Road av John Hillcoat, USA 2010
Söndag 26 mars       Happy people av Werner Herzog (dokumentär), USA 2013
Onsdag 26 april         Space Odessey av Stanley Kubrick, USA 1968
Söndag 7 maj            Medlemmars val, görs vid FilmDagar
Söndag 4 juni             Stalker av Andrej Tarkovsky, Sovjetunionen 1979
Program hösten 2016
Tre filmer på temat Dröm och verklighet
Torsdag 22 september
19.15     American Beauty, av Sam Mendes, USA 1999, 117 min
A famous film on a man who fears growing older, losing the hope of true love and not being respected by those who know him best. Lester Burnham, the hero of "American Beauty," is played by Kevin Spacey as a man who is unloved by his daughter, ignored by his wife and unnecessary at work. "I'll be dead in a year," he tells us in almost the first words of the movie. "In a way, I'm dead already." The movie is the story of his rebellion.
Fredag 23 september
16.15    Revolutionary Road, av Sam Mendes, USA 2008, 113 min
"Let´s move to Paris and start a new life", April one day says to her husband, played by Leonardo DiCapro. And they start realizing their project, which opens unexpected feelings, possibilities and reactions. As in his previous film, Sam Mendes does not tell us what to think or how to react to the story, leaving the interpretations to the spectators.
18.45   Middag - ta med något att dela.
 19.45     Mandomsprovet (The Graduate) av Mike Nichols, USA 1967, 106 min
Benjamin is young gradute who does not kow what to do in life, just hat he does not want to live like his middle-class professional parents. He is invited in a relationship with the much older Mrs Robinson and from there it will come many complications. The Graduate is a classic with eternal, undated appeal. It´s easy to feel with Benjamin, his woories and lack of self-confidence. The film includes the famous soundtrack by Simon&Garfunkle, with songs like Sounds of Silence and Mrs Robinson that elegantly mingles with the story.
Dream and reality
Dreaming can indeed be very pleasant. To dream about a nice holiday at the beach or living in a house beautifully situated by the sea, and to decorate these images with nice details seems to invite me to a good life. Our society invites us incessantly to this kind of dreaming and there are an endless amount of possibilities to dream of a better and more comfortable life.  If I only took the chance... The three films of the Film Days at Sandgatan this Autumn talks a talk of people who are about to make real some of their more radical dreams. They also do jump and start off for a new life.
Realizing dreams are necessary parts a part of the self-accomplishment and the identity-building that has become important in postmodernity. In surch to become a distinct person who successfully  manage life. it seems natural to realize  what I dream of. The Danish philosopher Sören Kierkegaard once said that the worst thing that can happen to a person is that he gets the chance to realies his dreams. Do our films confirm this statement? At least you may find that personal imperfection and unsatisfaction can be efficient motors behind dreaming. At the core of dreaming stands also darker sides of the human person.
The films we show talks about what can happen when a dreaming of a radical change meets with the realities of life. At a certain moment there is a turn to the present time of the dreamer. Will he at this point accept that the dream was only a dream.  Or will the dream come through? What happens in the moment of truth?

Björn Engdahl, Dominican
Filmklubben Sandgatan 8 , September 2016